The end of the last year was a total chaos (and the the beginning of the new one was the same).
So now here are - a bit late though - my resolutions for the new year:
Buy fewer expensive miniatures
Buy more cheaper miniatures
Play more games with the bought miniatures
Don't start any new projects!
Finish all current projects
Update my weblog more frequently!!
And here's the first mini I bought this year: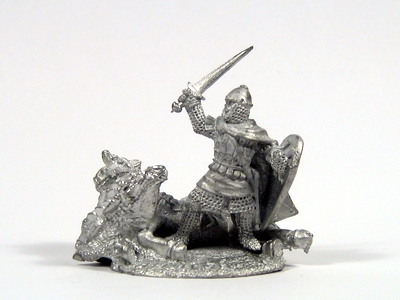 Saint George and the Dragon vignette from Salute zero five, sculpted by Mark Copplestone and limited (I guess) to 4500.
But it's another mini I will NEVER use in any game! Shame on me!
In the next days I'll reveal some of my planned projects, I have to finish. Sketches, drawings, parts lists and all the other stuff I've made so far - maybe somebody else takes the work from me and finishes it. ;-)
Categories: Miscellaneous, Historical
January 2007 by WitchfinderGeneral