Copplestone Castings (any Future Wars pack) 11,43 Euro for 5 minis
= 2,29 Euro/miniature
em4miniatures (any FantasyWarriors or FutureSkrimish) 1,84 Euro for 1 mini
= 1,84 Euro/miniature
Fenryll (most of the packs) 9,50 Euro for 3 minis
= 3,17 Euro/miniature
Games Workshop (e.g. Space Marine 10 Figures plastic kit) 29,95 Euro for 10 minis
= 3 Euro/miniature
Iron Wind Metals (most Partha Classics - Fantasy Adventurers) 2,22 Euro for 1 mini
= 2,22 Euro/miniature
Prince August (Warzone - e.g. Bauhaus Venusian Rangers) 12,49 Euro for 7 minis
= 1,78 Euro/miniature
Prince August (most Mithril Classic packs) 4,50 Euro for 1 mini
= 4,50 Euro/miniature
Pulp Figures (most of the packs) 10,15 Euro for 5 minis
= 2,03 Euro/miniature
Rackham (Confrontation - e.g. Kelt Fiannas 01, Valkyries of Alahan 2) 10 Euro for 3 minis
= 3,33 Euro/miniature
RAFM (any Call Of Cthulhu - Player Characters) 5,23 Euro for 3 minis
= 1,74 Euro/miniature
Reaper Miniatures (most Dark Heaven Legends) 3,00 Euro for 1 mini
= 3,00 Euro/miniature
Wargames Foundry (most of the OldWest, CUTthroats) 14,50 Euro for 6 minis
= 2,42 Euro/miniature
I know it's difficult to compare because the figures aren't all of the same size, aren't sold in the same quantity, aren't all of the same quality etc. Just look at it as a very rough guide. Maybe I'll do an update somewhen in the future.
March 2007 by WitchfinderGeneral
---
Like I promised, here's one of the projects I'm working on.
This will be the final version of my tavern. I'll use it for swashbuckling fights and all scenarios where I need a closed room with lots of space.
I decided when I did a test game that this tavern should be as variable as possible. That means that all interior should be movable. And I don't mean only tables and chairs. Also the bar, the stairs, even the doors should not be fixated!
The wood I used is 6mm plywood, most of it was already cut for me at the DIY store.
38 × 32cm for the base, 38 × 10cm for the long side walls and 30,8 × 10cm for the shorter side walls.
The 2nd floor gangway is 36,8 × 3,5cm and 30,8 × 3,5cm. 3,5cm is a good size, so a 25mm base fits easily on it, even when I put a handrail on the gangway.
This are the parts I needed, all marked for drilling


I drilled some holes for the nails. I just had to put in the nails because the wood was warped and I couldn't have fixated it otherwise.


The finished and glued frame for the tavern!


Another picture of the small nails I used. This picture is taken from the underside.


I feared this would happen! Can you see the figure standing under the gangway? I can't! And if I leave it that way I won't see any decoration I wanted to put on the walls!



But I already found an easy solution, I haven't bought the wood yet, so I can't show you any pictures.
By the way, my deadline for this project is 26th April...
March 2007 by WitchfinderGeneral
---
Here are some of the books I bought / received / read in the last weeks.
A very interesting mix. The 2nd edition of Rapid Fire ("Fast Play World War Two Wargames Rules"), all publications of *CAV – Combat Assault Vehicle (the Mecha game from Reaper Miniatures) and a nice little book about sailing ships.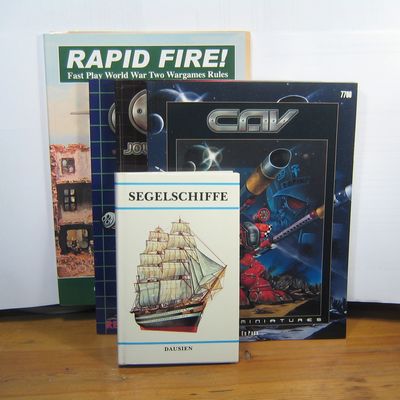 February 2007 by WitchfinderGeneral
---
The end of the last year was a total chaos (and the the beginning of the new one was the same).
So now here are - a bit late though - my resolutions for the new year:
Buy fewer expensive miniatures
Buy more cheaper miniatures
Play more games with the bought miniatures
Don't start any new projects!
Finish all current projects
Update my weblog more frequently!!
And here's the first mini I bought this year: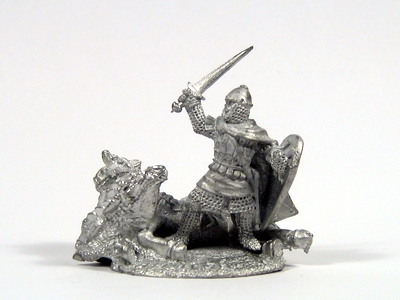 Saint George and the Dragon vignette from Salute zero five, sculpted by Mark Copplestone and limited (I guess) to 4500.
But it's another mini I will NEVER use in any game! Shame on me!
In the next days I'll reveal some of my planned projects, I have to finish. Sketches, drawings, parts lists and all the other stuff I've made so far - maybe somebody else takes the work from me and finishes it. ;-)
January 2007 by WitchfinderGeneral
---
I didn't worked much on miniatures the last week. But I worked a bit on my room to make the place more comfortable and to make better use of the space.
One shelf is usually full of figures that I don't know where to put them else. There are some loose Figures, some I started to work on, some I just want to look at or I want to have at hand.
They're using the whole shelf so I can't use it for anything else. What a waste of space, I thought. The shelf is 30 cm high but a figure just 3 cm!
Well, after I thought about this a few days (including the "where can I buy it or do I build it myself?") I took the measures, made a rough sketch and went to the DIY store to get everything I needed (basically only plywood).
It took me about 2 hours to finish this thing. I had most of it already cut in the store. But some of the boards were warped and cut a few milimetres too short. So it still was quite some work I had to do.
Sorry, no WIP shots. But this wouldn't be that exciting anyway.
All in all I'd say the project was very successful. More room in the shelf, a better look at the miniatures and the ugly wallpaper is hidden now, too. And this all at a very reasonable price of less than 10 Euro.

December 2006 by WitchfinderGeneral
---